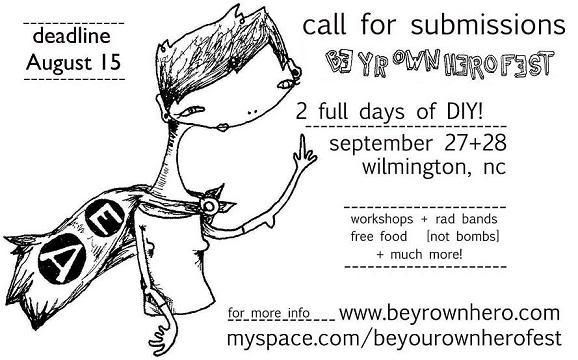 We are STILL accepting workshops and you can find more info on the Hero website and Myspace. It'll be at the Soapbox in downtown Wilmington, NC and if you need some sleeping arrangements or have any more questions, e-mail us at herofest@gmail.com!
Be Your Own Hero Festival Now Accepting Submissions
[Wilmington, NC] The 2nd Annual Be Your Own Hero (BYOH) Festival will be taking place in Wilmington, North Carolina September 2008. The locations and exact dates will be announced at a later time. Submissions for workshops, info sessions, skill shares, and musicians are currently being accepted. Volunteers are also needed to help out on the day(s) of the event and/or to join the BYOH Fest Planning Squad.
Please send workshop submissions to herofest@gmail.com with your name, email, phone, organization/collective (if applicable), proposed workshop title & short description, materials needed, and time needed. All other ideas, volunteer availability, and inquiries may also be sent to herofest@gmail.com. We welcome all subjects and we encourage all people to apply, especially those who do not fit neatly into the status quo!
In 2007, Wilmington NC was home to the first Be Your Own Hero Festival, an all day radical Do It Yourself (DIY) Festival held at the Soapbox Laundro Lounge. The Festival included a Really Really Free Market, potluck, workshops, info sessions and live music. 2007's workshops included: DIY parenting (a radical concept), Basic Bicycle Repair, Truth in Recruiting / Promoting Peace, Social Activism & the Info-Radical Menstruation, Food Politics, Trans 101: Becoming an ally to transgender people, Unconventional Action: Organizing against the DNC/RNC, and DIY DJ Workshop. Bands included: The Brothels, The Nothing Noise, Gator Country, Prize Winners Collective, NED, and Ghost Mice.
For more information on the Be Your Own Hero Festival and Collective, visit beyrownhero.com, myspace.com/beyourownherofest, or contact herofest@gmail.com.
_______________________
Be Your Own Hero Fest Workshop Submission Form
Email to herofest@gmail.com
NAME:
EMAIL:
PHONE:
ORGANIZATION / COLLECTIVE:
PROPOSED WORKSHOP TITLE:
DESCRIPTION:
MATERIALS NEEDED:
TIME NEEDED: choose from 45 minutes, or 1 hour and 45 minutes